Welcome to the Association of Scottish Toastmasters.
Think of your event, the best way you can imagine it – hold it in your mind. Try to tweak back the curtain to see what is unfolding: Your guests are clamouring for your attention; your banqueting manager is dealing with staff; the front man of your band – or maybe your DJ – is setting up. Who is there to ensure your hard work and meticulous planning stay true to your vision?
You will invest a great deal in food & drink, in room dressing, in entertainment. Insure these investments by engaging an individual with a proven track record in delivering seamless functions with dignity and panache. There's a name for such an individual.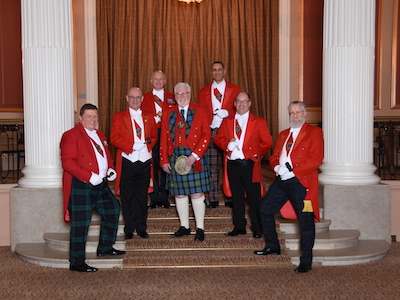 A toastmaster is an expert in decorum, in etiquette but more than this your toastmaster exists to ensure your guests are cherished, informed and comfortable. You may not even notice when you have an experienced hand guiding your day, but you most certainly will if you do not.
Your toastmaster will spend days, perhaps weeks, before your event foreseeing possible issues. Any questions you might have will be answered with confidence backed up with experience. They will bring years of professional knowledge to bear on the day so that all of your memories will be golden. The takeaway impression of your guests will be one of an impeccably planned and executed occasion.
---