Niels Christian Rossel ~ Scottish Toastmaster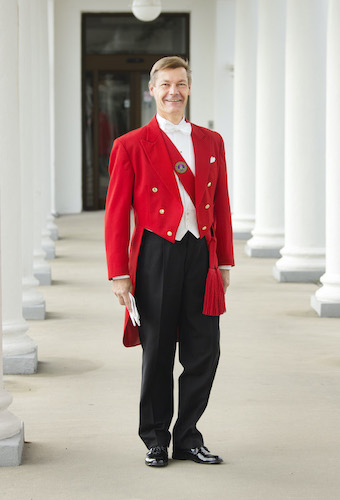 The Man in the Red Coat – Keeping Your Day on Track. Weddings have so much going on that sometimes for the happy couple it is difficult to relax. So, allow Niels to guide you, and all your guests through what should be the most amazing day of your lives, coordinating all, keeping it running to time, and affording you the chance to really enjoy yourselves.
---
There are Toastmasters and then, there is The Danish Man in the Red Coat*
Niels has over 31 year's experience in both industry and the performing arts, is a trained Musician and his years in industry have been based mainly around customer service with some of the world's best known manufacturers including L'oreal, Heraeus Kulzer and Microsoft. This experience has allowed him to work with and work for people from all walks of life. He is equally at home with those at the sharp end, the shop or workshop floor, as he is dealing with celebrity and even royalty, all of whom he has experience of serving directly. This Toastmaster is an expert in etiquette.He will add dignity and a 'touch of class,' to your wedding.
So! Relax, chat and enjoy the company of your family and friends in the knowledge that Niels is watching the clock, coordinating the show and that when you are needed he will come and get you.
When not being a Toastmaster Niels' day job is split between being a professional Independent Bottler (whisky), being a professional Bagpipe artist and being a dad to his young daughter (by far the most difficult of all).
He is Danish – Why The Association of Scottish Toastmasters?…
Niels has through his consistent playing of the Highland Bagpipe over the years been trawling to the Scottish Highlands for both tuition and leisure – Niels' may be born in Denmark but his Heart is in the Highlands of Scotland.
Use The Danish Man in the Red Coat and have confidence.
As a Professional Toastmaster Niels offers his services to clients throughout Denmark and Scandinavia.
*Traditions in Denmark and the Scandinavian Country's is to have a family member or friend to be the toasting-man, trying his best to keep order and guide the party till the happy couples first dance together – almost always to late (after midnight – bad luck) to many speeches and songs – Yes, we sing at weddings!
---