Richard Morris ~ Scottish Toastmaster & Secretary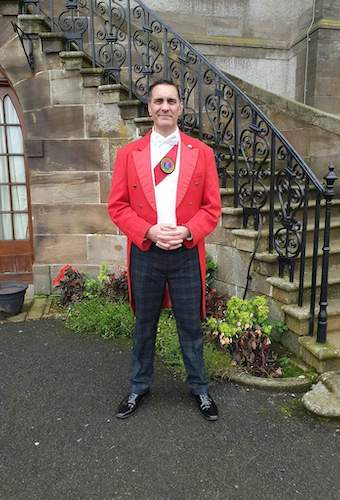 I have 30 years' experience in the Hospitality Industry in many varied roles both in London and Edinburgh and have undertaken Toastmaster and Event Management duties in such prestigious venues as The Fairmont St Andrews Hotel, Holyrood Palace , 6 Nations Events at Murrayfield Stadium, R & A Open Golf Championships and The National Museum of Scotland. My rich background in Food and Beverage management also allows me to have an overview of this side of the event and offer to look after the Top Table's wine service as part of my duties on the day to ensure there is a "personal touch" to my role.
---
As a member of the Association of Scottish Toastmasters, my services are mainly used to remove any potential stress from the Bride and Groom on the day; I will ensure the smooth running of the Wedding alongside venue management, and I will be on hand to deal with any issues, if they occur!
Fiona and I would just like to express our sincere thanks for excellent job that Richard did for us at our wedding. It really was first class and helped the day go so smoothly – looking back we honestly don't know how we would have coped without Richard's support and it was a great weight lifted off my shoulders that someone was there early in the day to help me and all the arrangements. Richard also added such a lot of nice touches that we noticed – always being there to help out or to attend to things and having two glasses of champagne ready; so a big thanks to Richard for an excellent job well done.  —Fairmont St Andrews Hotel
On the day I will arrive and meet ushers to ensure they are happy and the venue is set as per requirements. Depending on how the day will flow, I will ensure all guests make their way to the relevant locations, and again depending on how the Bride and Groom wish, I will be on hand to announce the guests to the official party or the Bride and Groom to the room for the Wedding breakfast.
I will announce speeches and following on from the Wedding breakfast, I will meet and greet evening guests (if required) and will announce cake cutting and liaise directly with the band or DJ to announce dances.
---